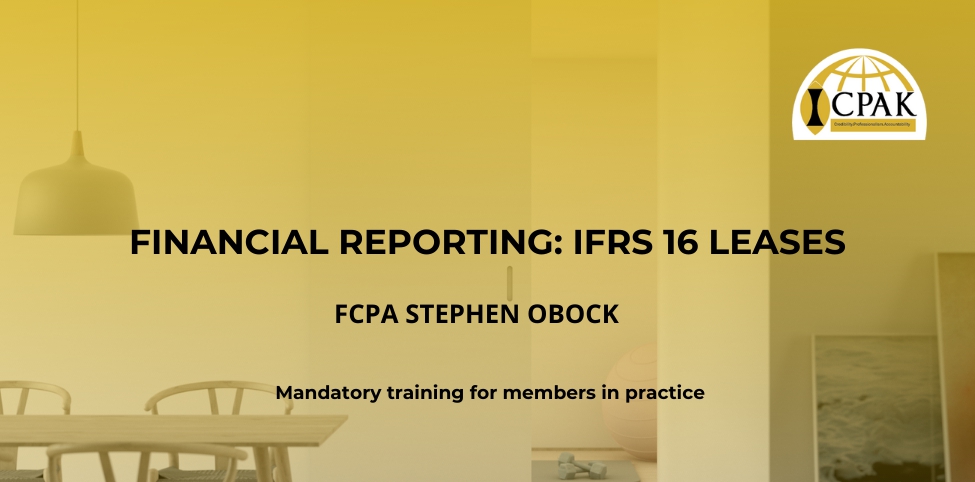 Financial Reporting: IFRS 16 Leases
IFRS 16 sets out the principles for the recognition, measurement, presentation and disclosure of leases for both parties to a contract, i.e. the customer ('lessee') and the supplier ('lessor'). The standard defines a lease as a contract that conveys to the customer ('lessee') the right to use an asset for a period of time in exchange for consideration.
IFRS 16 became effective for annual periods beginning on or after 1 January 2019 and a number of entities with 31 December year end, are either in the process of adoption and completion of compliant IFRSs financial statements or have completing the adoption are evaluation improvement areas in the coming year.
This training focuses on the critical aspects of IFRS 16 and challenges entities encountered and how to deal with these challenges.
This course will equip participants with the knowledge and practical skills necessary to understand:
The key aspects of IFRS 16;
Challenges observed and judgment areas;
Key considerations to deal with challenges on adoption; and
Disclosure requirements.
Identify lease contracts under IFRS 16;
Understand key judgement areas;
Learn from challenges experienced in other companies; and
Identify key disclosure requirements for lessee and lessor
This webinar is part of the mandatory training for members in practice
Members are required to watch the video to completion to get full CPDs
Course Curriculum
Financial Reporting: IFRS 16 Leases