Personal Resilience and Agility: A winning combination for the New Normal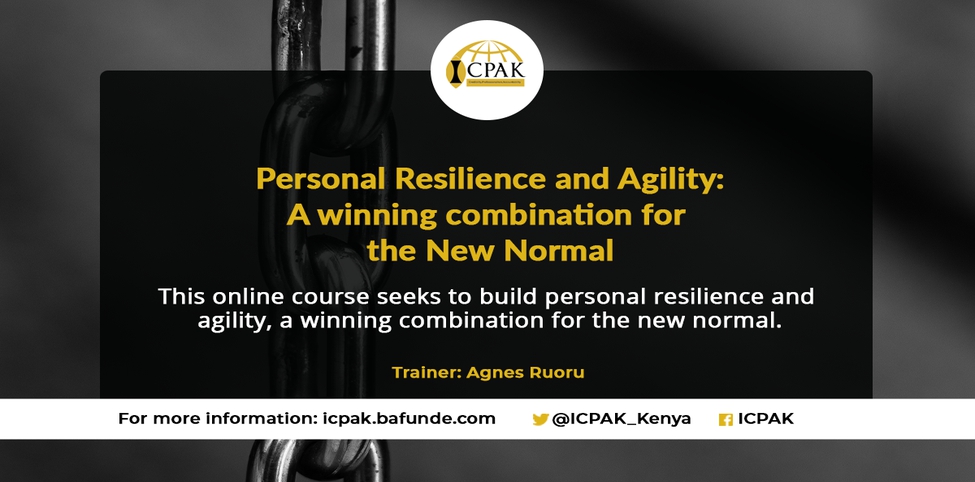 Personal Resilience and Agility: A winning combination for the New Normal
It has often been said that change favors the prepared. This statement cannot be timelier, than in the wake of the COVID-19 crisis situation that has crippled business operations globally, and significantly affecting their survival in the future. The Covid-19 epidemic has been described as the biggest wave of economic shock (Forbes, 2020), a moving target with unfolding twists and turns (Reeves, Lang & Carlsson-Szlezak, 2020), a grim calculus of life and death choices (Economist, 2020) among many others diverse ways that describe global crises of its magnitude. Consequently, and in appreciation of the catastrophic consequences, the COVID-19 epidemic was classified as a pandemic due to the alarmingly high levels of spread, the severity of suffering, and deaths (WHO, 2020).

Nations, businesses and their leaders have not been spared, with sectors like education facing forced shutdowns, while others have reduced activity to essential services or minimal operational teams. This begs the question: In these unprecedented times, what differentiates successful leaders from unsuccessful ones? What does it take for business leaders to navigate and lead their teams when business continuity nor survival is guaranteed?

On one hand, business leaders require resilience, which provides a framework for leaders to persevere through personal and business challenges. On the other hand, agility enables leaders to react quickly to change, take decisive actions, and lead their organizations through rapid change.

This online course seeks to build personal resilience and agility, a winning combination for the new normal.
At the end of the session, delegates will ;
Understand the complexities of leading organizations through the crisis in turbulent environments
Grasp the key ingredients for navigating through complex change: Resilience & Agility
Understand how to develop their resiliency edge, restore and sustain their well being
Through practical assessments, participants will assess barriers to resilience
Action planning: Craft their transformative resilience boards and action plans to get to their desired future state
The reality – Understanding the Landscape
Leading in a highly volatile, uncertain, complex and ambiguous (VUCA) Environment
What it takes to survive black swan events
The New Normal – Unanticipated twists & turns
Creating your Resilience Edge
Resilience ⇔ Agility: Two sides of the same coin
Developing your resiliency factor – What it takes to navigate current & future shocks
Dealing with adversity and stressful crisis situations
Restore & sustain your well-being, recharge, and move ahead.
Transformative Resilience
Overcome your fears, challenges & turn them into opportunities.
Creating the future
Navigating the terrain: Tools & techniques
Members must watch the video to the end to earn CPD Units
Course Curriculum
Personal Resilience and Agility: A winning combination for the New Normal