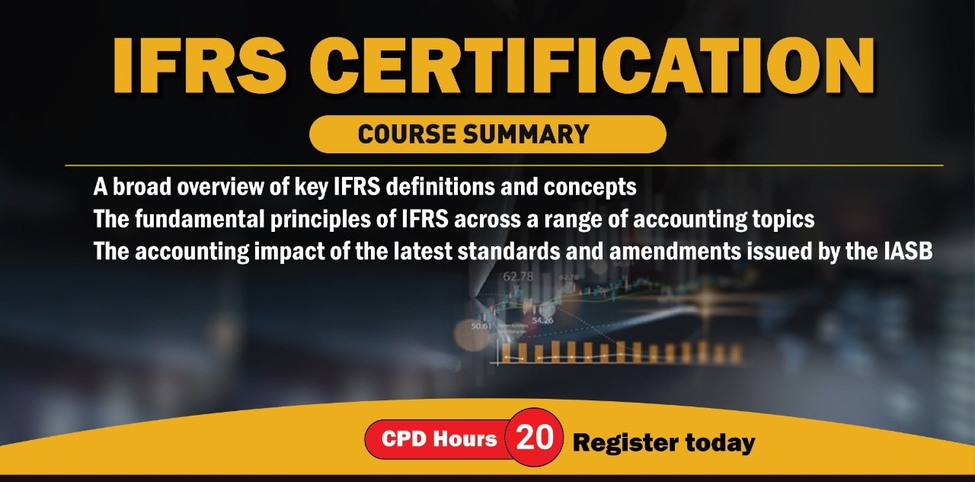 IFRS Certification
Category
Financial Reporting
CPD Units
20 Structured CPDs
This online certification is a comprehensive program which is developed to provide a grounding in IFRS and help you to distinguish yourself as a professional who is proficient as it brings you up to speed with the current developments and teaches you how to understand, apply, and explain fundamental concepts and principles of IFRS across a broad range of accounting standards.
In addition to promoting standards of professional competence, the online IFRS certification is also meant to keep members engaged and up to date with IFRS in a convenient way.
This certificate program will cover:
A broad overview of key IFRS definitions and concepts
The fundamental principles of IFRS across a range of accounting topics
The accounting impact of the latest standards and amendments issued by the IASB
The course should be completed within a period of 3 months from the date of registration.
Members will earn 20 CPD points upon successful completion of the certification course.
It is important to note that the IFRS certification does not cover sector-specific standards like Exploration of Mineral Assets (IFRS 6) Reporting by Retirement Benefit plans (IAS 26), Agriculture (IAS 41) and Insurance (IFRS 17). However, the module for these specific standards will be prepared and availed as optional for interested at a future date.
A member should complete each section before proceeding to the next. For example, the Pre-module of the IASB conceptual framework should be completed before proceeding to Module I.